Radiator repair for heavy equipment, large trucks, tractors, construction equipment, in Stroudsburg, Poconos, and Monroe County, PA
Radiators • Heat Exchangers • Oil Coolers • Charge Air Coolers • Condensers
Since 1958, Cicioni Radiator has been serving the heavy duty and large equipment radiator repair needs of customers in Stroudsburg and the Poconos of PA as well as Arlington Heights, Brodheadsville, Delaware Water Gap, East Stroudsburg, Effort, Emerald Lakes, Gouldsboro, Indian Mountain Lake, Mount Pocono, Mountainhome, Penn Estates, Pocono Pines, Saw Creek, Saylorsburg, Sierra View, and Sun Valley.
Cicioni is your "heavy equipment radiator specialist" for repairs, re-coring, or replacement of radiator, oil coolers, charge air coolers, and heat exchangers on the large and heavy equipment that the other guys can't handle. Cicioni Radiator Repair Works is your first and last stop for radiator repair on vehicles and equipment regardless of size.
Pickup, delivery and on-site fleet repair and maintenance throughout Pennsylvania, New Jersey, Delaware, and Maryland.

Click the video below to learn about Cicioni Radiator Repair Works.
Industrial bolt-on radiator repair
Many applications from large trucks to industrial operating equipment require a bolt-on radiator to manage cooling. The Cicioni team has a large in-stock inventory of heavy duty, bolt-on radiators to meet any application you may have. Contact Cicioni Radiator and talk to an expert who will guide you through the process of ensuring we order the best radiator to meet your needs.
Plastic and aluminum radiators
Contrary to what people have been told or believe, plastic radiator mechanically fastened by way of crimp strip or weld are repairable, but not in all cases. If found to be non-repairable, we can replace or build all-new aluminum.
Charge air cooler repair in the Lehigh Valley
A defective charge air cooler can cause your vehicle or equipment to overheat, have loss of power, and decreased fuel mileage. Cicioni Radiator Repair Works will have your engine properly cooling in no time with our charge air cooler service.
To solve your issue, we will clean, flush, test, and evaluate your charge air cooler. We will repair, recore, or replace with products that will meet or exceed OEM specifications.
Cicioni services charge air coolers for all makes and models of vehicles and heavy quipment for a variety of applications including applications in trucking, industrial, and off-road usages.
We have been in business since 1957 and are A+ certified by the Better Business Bureau.
Our lead time is measured in days, not weeks, for charge air cooler repair or replacement in PA, NJ, NY, DE, and MD.
Oil cooler repair
The oil cooler serves two functions: lubrication and cooling, and is usually located near the radiator for maximum cooling efficiency. The unit helps keep oil cool and within operating specifications. Remember that oil isn't just for lubrication; oil also plays a vital role by transferring heat away from the engine.
If oil isn't regularly changed, it can gather debris and deposit it within the oil cooler's thin cooling galleries and lead to failure. If your engine is loosing power, misfiring, or the oil temperature runs high frequently, your oil cooler may need to be repaired or replaced.
Failure to take care of a faulty oil cooler can ruin your engine.
Aluminum bar and plate repair
Cicioni can repair, rebuild, or replace the aluminum bar and plate found inside most oil coolers, charge air coolers, and other heat exchangers.
When we repair or replace your aluminum bar and plate, the new system will meet or exceed original specifications.
Fuel tank repair
Cicioni can clean, test, repair, weld straps, cut in half, shorten, remove dents for all types of fuel tanks throughout the Lehigh Valley.
Heat exchanger repair
A heat exchanger is designed to transfer heat between two or more fluids. Over time, heat exchangers may fail.
Since 1957, Cicioni Radiator Repair Works has been experienced in heat exchanger repair, service and maintenance.
Cicioni can solve your heat exchanger problems with an on-site visit to diagnose the issue and recommend a solution, such as repair and/or refurbishment, if possible, or the installation of replacement coils and headers if needed.
Heat exchangers are frequently used for the air conditioning of buildings and vehicles and are commonly called air coils, or just coils thanks to their usual serpentine internal tubing. Liquid-to-air, or air-to-liquid HVAC coils are typically created using a modified crossflow arrangement.
Fluids often used in heat exchangers are water, water-glycol solution, steam, or refrigerant. For heating coils, hot water and steam are most common.
Industrial chiller repair or maintenance
A chiller removes heat from a liquid using a vapor-compression or absorption refrigeration cycle. This liquid is either passed through a heat exchanger to cool equipment or through some other process stream. Refrigeration causes waste heat that should be dissipated or recovere for heating.
Large industrial, commercial, and institutional facilities use chillers to remove humidity or cool the air. Chillers can be water-cooled, air-cooled, or evaporatively cooled.
When your chiller goes down or needs maintenance, you can count on the professionals at Cicioni Radiator Repair Works to be there on-time and get your system back online as soon as possible.
Steam coil repair
Single or dual tube steam coils can be repaired or replaced by the professional team at Cicioni Radiator Repair Works.
Single tube coils use condensate return headers and connections at opposite ends of the coil. The header assembly helps  distribute steam uniformly to the coil core tubes. Dual-tube (distributing) coils use a smaller inner tube with precisely spaced, directional perforations which direct condensate flow to the return header.
When any of these parts in your steam coil fail, Cicioni Radiator Repair Works is here to help with the purchae and installation of a replacement, or the repair of the existing unit.
Condenser repair
Heat transfer systems rely on a condenser to condense a substance from a gaseous to liquid state by cooling it. As this is done, heat is released from the substance and transferred to the surrounding environment.
Cicioni is experienced in the many types of condenser designs that are out there, including large, industrial-sized units used in manufacturing plants.
Your home refrigerator uses a small condenser to cool your food. Yet the same concept also applies on a much larger scale in many industries, including industrial chemical processes such as distillation, steam power plants, and other heat exchange systems.
Cicioni's professionals can determine the cause of failure and recommend the best way to get your condensor up and running as quickly as possible.
From the largest radiators for off-road construction and mining vehicles, to the smallest of automobile radiators, Cicioni Radiator Service is your one-stop solution for repairs, replacement and other service.
We carry a full line of replacement radiators or have quick access to the parts for your vehicle.
Our highly experienced repair technicians possess the knowledge to get the job done right and in less time than many other repair shops, saving you money and getting your vehicle back on the road where you need it. And we'll do those repairs in our shop. Or, with commercial vehicles, we can come to you.
We're the leader in truck, tractor and automobile radiator repairs in northeastern Pennsylvania.
Located on Route 309 in Hazleton, Cicioni only uses the highest quality parts in its repairs and guarantees our work.
Cicioni Radiator is the trusted choice of many companies to keep their fleets of vehicles in good condition when it comes to air conditioning, heating and oil cooling.
Cicioni is a member of the Better Business Bureau.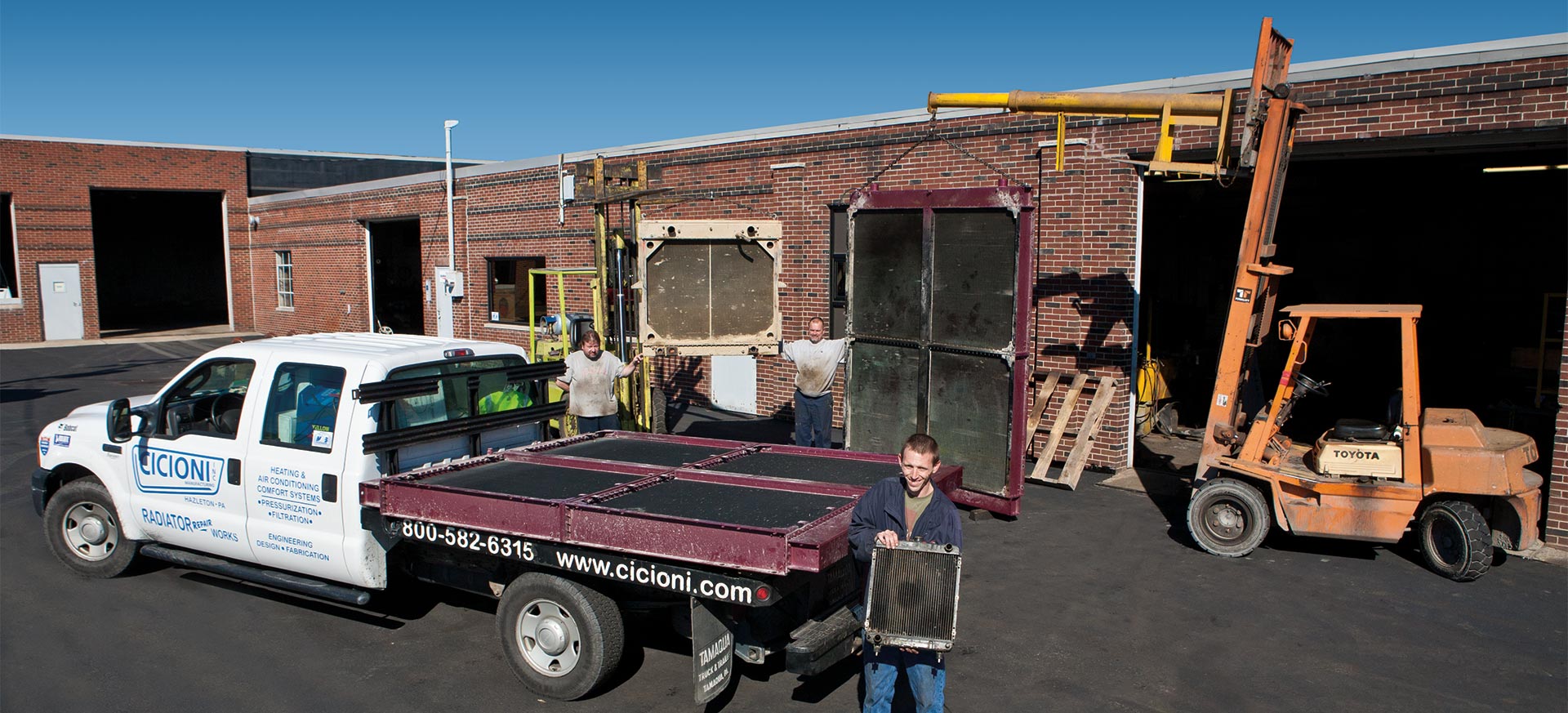 Specializing in cleaning • servicing • repairing • refurbishing • replacement
We repair aluminum • brass • copper • plastic • stainless steel • carbon
Hydraulic fracturing industry:
Mobile support equipment
• Combination fracturing unit
• High pressure pumps
• Blenders
Equipment:
• Backhoes
• Coach buses
• Cranes
• Diesel locomotives
• Dozers
• Drill rigs
• Excavators
• Farm equipment
• Fire apparatus
• Generators
• Haul trucks
• Life trucks
• Military vehicles
• School buses
• Shovels
• Tractors
• Transit buses
• Trucks
• Wheel loaders
Applications:
• Aluminum bar and plate
• Charge air coolers
• Condensors
• Heat exchangers
• Industrial bolt-on radiators
• Oil coolers
• Steam coils
• Water chillers
Specializing in cleaning • servicing • repairing • refurbishing • replacement
We repair aluminum • brass • copper • plastic • stainless steel • carbon
Hydraulic fracturing industry:
Mobile support equipment
• Combination fracturing unit
• High pressure pumps
• Blenders
Equipment:
• Backhoes
• Coach buses
• Cranes
• Diesel locomotives
• Dozers
• Drill rigs
• Excavators
• Farm equipment
• Fire apparatus
• Generators
• Haul trucks
• Life trucks
• Military vehicles
• School buses
• Shovels
• Tractors
• Transit buses
• Trucks
• Wheel loaders
Applications:
• Aluminum bar and plate
• Charge air coolers
• Condensors
• Heat exchangers
• Industrial bolt-on radiators
• Oil coolers
• Steam coils
• Water chillers