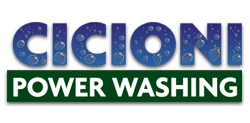 Construction Industry Power Washing
Put Cicioni Power Washing to work for your construction cleaning needs. We show up on schedule, pay special attention to safety and do the job right the first time – GUARANTEED! And all of our cleaners are bio-degradable.
Cicioni Power Washing can clean your heavy equipment, buildings, sidewalks, parking lots and much more to remove grease and oil, years of dirt, or spills of all types.
A clean construction site is a safer construction site and clean equipment means fewer breakdowns and less time spent waiting for repairs.
Call Cicioni Power Washing today for a free quote on cleaning services for your construction site.